A selection of unique desserts:
We prepare for you distinctive Individual or Corporate Gift Baskets: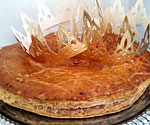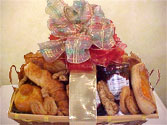 From $50 and up, we personalize your gourmet basket with products of your choice. We deliver!

Specials for menus
Everyday, we offer specials for lunch and dinner.
Please contact us to get the special of the day , since every day is different.

Special events
Using only the freshest and best ingredients, Michel Richard is known to make your event unforgettable.
Whether it's a Birthday, a Wedding, a Baby Shower, a Cocktail Party or other Official Occasion, we carry a large selection of products prepared when you order. See catering for more details.

Season specials
During each season, there is time you like to share with friend and special people:

Picnic Boxes for the Hollywood Bowl,
Pumpkin Pie for Thanksgiving Holidays,
Christmas logs and Gifs Baskets for Christmas,
Delicious Chocolate Heart for Valentine's day,
or Chocolate Bunnies for Easter.

Please, check us up on the regular basis to get the "happening special of the moment"!
Prices are subject to change at any time!