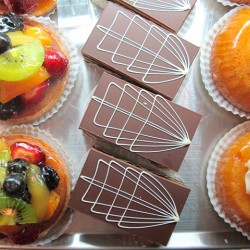 For over 30 years Maison Richard has built a reputation as being one of the finest caterers in Los Angeles. We offer complete catering services for small to medium sized events. Formal and casual, weddings, social and corporate parties, holiday and other events.
Our specialties for cocktail events or private parties are the miniature hors d'oeuvres and Petits Fours, as well as French piece montées or the famous French Croquembouche for weddings.
Maison Richard Catering is the perfect choice for your next private or corporate event. Our experienced staff, complete table settings and linen are available for gatherings of up to 100 people. Treat yourself and your friends to an unforgettable experience in gourmet dining, and let us perform our culinary magic on your next private party or function.
To help you plan and select the appropriate menu, please call for a consultation at or contact us by email.