Classic French café & bakery that begun as Michel Richard's pâtisserie
Maison Richard is the reincarnation of the Michel Richard pâtisserie that had been on Robertson Boulevard for twenty years, and was the first dining outpost in LA to offer a sidewalk café and breakfast. Now just off Melrose, the dining area is a large covered outdoor patio, where the owners Thierry and Huguette Hennequin want you to feel at home, hence the name (maison = home).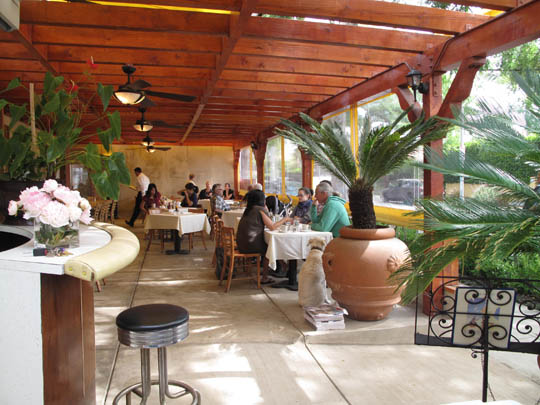 The menu is very French with items like soupe à l'oignon, a wide selection of quiches and salads, marinated herring with warm potato salad, plateau de charcuterie, and warm goat cheese on brioche for appetizers. This is a good place to satisfy your cravings for calf's liver, reasonably priced at $14.95. Another good value is the white fish ($16.95). All main courses come with a choice of French fries, vegetables Julienne, zucchini and tomato gratin, green beans with a touch of garlic or gratin Dauphinois. The savory dishes are simple as well as the wine list, which makes it easy to put Maison Richard on your list of neighborhood restaurants. Dines can indulge in cheese before a sweet ending. All pastries, of course, come from the house pâtisserie, made on location based on Michel Richard's recipes. Customers can take them home and order a big cake for parties. Smokers will be happy to know that they have a patio, decorated with a charming fountain, just for them. After all, this is a French restaurant.
Gayot Review