LA Weekly Review: Maison Richard Now Open + What's in a name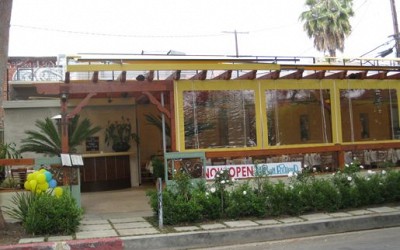 Long before names like Chanel and Kitson came to be associated with upper Robertson Boulevard, there was Michel Richard. The patisserie and café became one of the few sources for top quality pastry in Los Angeles after it opened in 1977.
The building that originally housed Richard's celebrated Citrus restaurant on Melrose is in very good hands, but the other remains of his Los Angeles legacy don't exactly have the cohesion of Richard's "faux gras" chicken liver terrine. (As for the man himself, he's been based in Washington, D.C. for many years now, despite a recent Citrus at Social interlude.) The Robertson space continued to operate under the name Michel Richard for years after his involvement ended, but those who seek out the famed spot will find yet another Le Pain Quotidien an empty storefront. The latest incarnation of the brand, Maison Richard, is found a few doors up from Melrose on a side street between La Brea and Fairfax, and has been open for a little less than a month.
Instead, Michel Richard Inc. owners Thierry Hennequin and Huguette Coffyn have kept half of the legendary pastry chef's name for the new restaurant, situated on Stanley Avenue. Coffyn tells us she purchased the corporation from Richard in 1985, after partnering with him on the bakery and café, as well as a Valley location. His restaurants were a separate thing entirely. "Citrus was another venture, and he preferred the restaurant business," she explains.
As for the move to Melrose into a space that's somewhat off the beaten path, "we just called it Maison Richard and made it a little different. We are a little more of a restaurant." Maison Richard serves breakfast, lunch, and dinner, along with stocked pastry and to-go deli cases.
BY JESSICA RITZ, WEDNESDAY, JUNE 23, 2010