This Thanksgiving Season, relax and let Maison Richard cater your wonderful Thanksgiving dinner.
Thanksgiving Menu

Serving
Price
Norwegian Salmon

poached served cold with French haricots verts

12/14 (10lb)

145

Oven Roasted Fresh Turkey gravy with mushrooms

10/12

8/LB

Filet Mignon shallot sauce, mashed potatoes with chives and basil.

10/12

180

Pumpkin Soup

P/P

6.50

Tray of Smoked Salmon

8/10

60

Brie en Croute


SM/LG

35/60

Surprise Bread with 55 Sandwiches

70

Tourte Milanaise serves 12-16 people

12/16

65

Paté Tray

8.00

35/lb

Quiches

17

Hors D'oeuvres Assorted

30

45

Selection of Cheeses on a Tray with Seasonal Fruits

10/12

35

Side Dishes

8/10
35
Gratin Potatoes
Gratin Zucchini / Tomato and Yellow Squash
Roasted Sweet Potato Onion and Ginger
Seasonal Vegetables Sauteed
Wild Rice and Dried Cranberry Pilaf
Sweet Potatoes with Brown Butter and Parmesan Cheese
Bring your container! Personalize your dish!
Treat yourself with our famous PUMPKIN PIE!
Pumpkin Pie 7 inches ($27)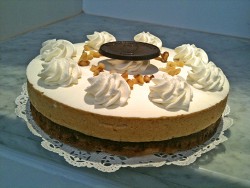 Delicious pumpkin mousse on a crust of hazelnuts and almond topped with light whipped cream and walnuts pills.
---
Special events
Using only the freshest and best ingredients, Michel Richard is known to make your event unforgettable.
Whether it's a Birthday, a Wedding, a Baby Shower a Cocktail Party or other Official Occasion, we carry a large selection of products made to order. See catering for more details.
Season specials
Each season, we have specials to perfect your events:
Picnic Boxes for the Hollywood Bowl
Pumpkin Pie for Thanksgiving Holidays
Christmas logs and Gifs Baskets for Christmas,
Delicious Chocolate Heart for Valentine's day
Chocolate Bunnies for Easter, and more…
Check with us for our season specials!
Prices are subject to change at any time!